[ad_1]

Buffalo Bulls at Ohio Bobcats (-4,
55.5)
The Buffalo Bulls have been a fan favorite this season – for
all the wrong reasons. Buffalo will look to improve its road
performance Wednesday night as it takes on the host Ohio
Bobcats in Mid-American Conference action at Peden Stadium. The
Bulls are 0-3 away from Buffalo on the season while allowing a
whopping 120 points combined in those three games – a welcome
sight for an Ohio team that is coming off a 42-21 rout at the
hands of Western Michigan.
The Bulls would love nothing more than to repeat the success
they had against Ohio last season, when they rolled to a 30-3
victory a year to the day of their next encounter. But they'll
need to sort out a problem-riddled defense that has surrendered
an average of 31 points during its three-game losing streak.
The Bobcats have been inconsistent all season and are
languishing in their worst stretch of the season, having
dropped three of their past four games overall.
TV: 8 p.m. ET, ESPNU
WEATHER: Fans at Peden Stadium should expect
overcast skies with a 63 percent chance of rain, temperatures
in the low-50s and calm winds.
WHAT CAPPERS SAY: "Buffalo and Ohio both have
losing records, but of the two, Ohio has played the much
tougher schedule. The Bobcats also hold a significant defensive
edge in this game as they are only giving up 26.9 points per
game on 5.9 yards per play compared to the Bulls who are
allowing 33.1 points per game on 6.3 yards per play."
Covers
Expert Steve Merril.
CHEERLEADER WAR: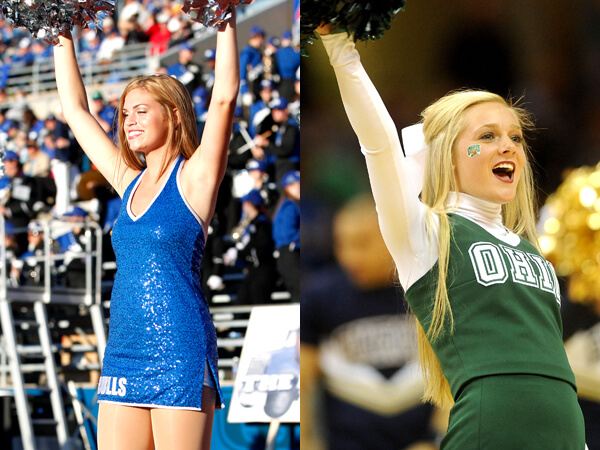 ABOUT BUFFALO (3-5 SU, 3-5 ATS, 5-3 O/U): The
Bulls have one of the most potent passing attacks in the nation
– led by quarterback Joe Licata, who has racked up 2,125 yards
through the air with 20 touchdowns and nine interceptions. But
good luck trying to figure out which of Licata's receivers to
cover; the junior QB has completed passes to 15 different
players on the season, with Ron Willoughby's 36 receptions
leading the way. Junior running back Anthone Taylor ranks third
in the conference in rushing yards (951) and touchdowns (nine).
ABOUT OHIO (4-5 SU, 4-5 ATS, 3-6 O/U): The Bobcats
boast a largely underwhelming offensive attack, having scored
just 19 offensive touchdowns through the first nine games of
the season. This has played a major role in Ohio representing
one of the strongest O/U plays in the conference, with only a
porous defensive effort last time out against Western Michigan
ending a four-game Under streak. Prior to last week, their only
two Over plays exceeded the respective totals by a combined 3
1/2 points.
TRENDS:
* Buffalo is 8-1 ATS in its last nine games against teams with
losing records.
* Ohio is 1-6 ATS in its last seven November games.
* Over is 6-1 in the Bulls' last seven road games.
* Under is 4-1 in the Bobcats' last five home games.
Northern Illinois Huskies at Ball State
Cardinals (+3, 63)
If the Northern Illinois Huskies are going to take over top
spot in the Mid-American Conference, they'll have to earn it.
The Huskies begin a grueling stretch to end the season
Wednesday as they visit the Ball State Cardinals in a pivotal
MAC tilt at Scheumann Stadium. Northern Illinois is coming off
impressive back-to-back victories, the latest a 28-17 triumph
over Eastern Michigan; the Cardinals have also won two
straight, most recently a 35-21 rout of Akron.
Paced by one of the nation's most potent rushing attacks,
Northern Illinois has rolled to 79 points in its past two games
but will finish the season with three of four games away from
Huskie Stadium. And if that weren't enough, its last three
opponents – Toledo, Ohio and Western Michigan – come into the
week a combined 10-4 in conference play. But first, a date with
a Ball State team that has been impressive in its own right,
scoring 69 points in its past two games.
TV: 8 p.m. ET, ESPN2
WEATHER: Temperatures at Scheumann Stadium will be
in the mid-40s with partly cloudy skies. Wind will blow
across the length of the field at 6 mph.
WHAT CAPPERS SAY: "Despite what the straight-up
records say, Northern Illinois 6-2 and Ball State 3-5, the
Cardinals have actually played better football this
season. Ball State has played the tougher schedule, and
their defense has played better against tougher offensive
opponents. The Huskies' defense is allowing 26.2 points
per game on 5.6 yards per play versus offenses that are only
averaging 19 points per game on 4.9 yards per play." Covers
Expert Steve Merril.
CHEERLEADER WAR: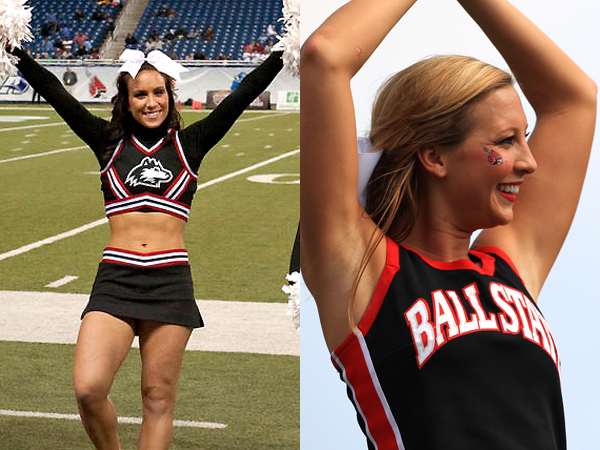 ABOUT NORTHERN ILLINOIS (6-2 SU, 3-5 ATS, 3-5
O/U): Any discussion of Northern Illinois' offensive
prowess begins in the backfield, where QB Drew Hare (76
carries, 581 yards, five TDs), Cameron Stingily (91 carries,
477 yards, five TDs) and Joel Bouagnon (76 carries, 414 yards,
five TDs) represent one of the most lethal three-pronged
attacks in the country. The Huskies are averaging 5.3 yards per
carry as a team, and their 21 rushing touchdowns are tied for
second in the conference. Hare has been solid throwing the
ball, as well, with 11 touchdowns and just one interception.
ABOUT BALL STATE (3-5 SU, 4-4 ATS, 3-5 O/U): The
Cardinals made a quarterback switch in mid-season, taking Ozzie
Mann out of the starting role despite the third-year sophomore
throwing six TD passes against just two interceptions. He was
replaced by fellow sophomore Jack Milas, who hasn't been any
more accurate than his predecessor but has a 5-to-0
touchdown-to-interception ratio while leading Ball State to
consecutive victories. Jahwan Edwards is the star of the show
on offense, rushing for 828 yards and eight touchdowns while
racking up four 100-yard performances.
TRENDS:
* Northern Illinois is 8-0-1 ATS in its last nine road games
against teams with losing home records.
* Ball State is 4-1 ATS in its last five conference games.
* Over is 8-2 in the Cardinals' last 10 November games.
* The road team is 4-1 ATS in the last five meetings.
[ad_2]

Source link