[ad_1]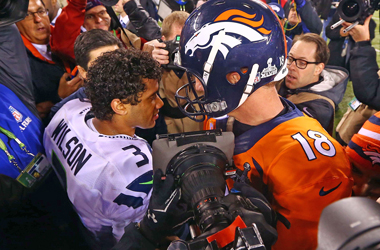 USA Today Images
Sequels are hardly as good as the original, but what
happens when the original was just downright terrible?
Football fans had to sit through the Seattle Seahawks' 43-8
drubbing of the Denver Broncos in Super Bowl XLVIII last
February, after it was promoted as the greatest Super Bowl
showdown of all time. Denver opened as a slight underdog at
some books but closed around -1.5 by kickoff, but it only
took one possession to see which team was the superior squad.
Now, in Week 3 of the 2014 season, these two NFL mega powers
collide with Seattle tabbed as a 5-point home favorite in the
Super Bowl rematch. Books opened at Seattle -4.5 and money on
the home side has boosted the defending champs half a point
as of Wednesday.
And with good reason too. In Super Bowl rematches the
following season, it's been the reigning champions who have
provided the most profits when it comes to the odds. It's a
rare occurrence, happening only five times before, but in
three of those five rematches the defending Super Bowl winner
has covered the spread.
As for the two ATS blemishes, the Kansas City Chiefs defeated
the Minnesota Vikings 23-7 in Super Bowl IV in 1970 then lost
27-10 as 12-point favorites the following season. The 1993
Dallas Cowboys fell 13-10 as 5-point chalk to the Buffalo
Bills, after smashing their opponent 52-17 in Super Bowl
XXVII that winter.
Those two Super Bowls were pretty lopsided, so perhaps
there's hope for the Broncos' as revenge fueled underdogs
Sunday afternoon. Denver did take a 21-16 victory over
Seattle at home in the preseason, covering as a 1-point
underdog in Week 1 of the exhibition schedule.
Here's a look at each of those five previous Super Bowl
rematches:
Super Bowl IV (1970): Chiefs defeated Vikings 23-7
Rematch (1970): Vikings won 27-10 in Week (KC L-12)

Super Bowl XI (1977): Raiders defeated Vikings 32-14
Rematch (1977): Raiders won 35-13 in Week 13 (OAK W -8)

Super Bowl XIII (1979): Steelers defeated Cowboys 35-31
Rematch (1979): Steelers won 14-3 in Week 9 (PIT W -10)

Super Bowl XXVII (1993): Cowboys defeated Bills 52-17
Rematch (1993): Bills won 13-10 in Week 2 (DAL L -5,
U44.5)

Super Bowl XXXI (1997): Packers defeated Patriots 35-21
Rematch (1997): Packers won 28-10 in Week 9 (GB W +1.5, U45)
[ad_2]

Source link