[ad_1]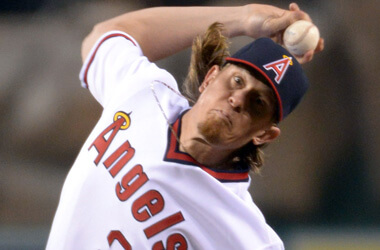 USA Today Images
It's playtime in the major leagues. The intensity of
both players and fans goes up a notch. Heck, in some cities
you'll even see the first sellout game of the season. How bout
that?! Playoff baseball is as good as the game gets. It's also
when I slow down my betting.

The first obvious thing with the MLB playoffs is there are less
games being played each day. Less games played means that there
are less opportunities to find mismatches to bet. In fact, the
matchups can be as tight as any you'll see all year in
baseball.
These are the best teams in the league playing one another.
We're not looking for mismatches when the Minnesota Twins
play the Detroit Tigers. Having said that, the Wild Card
games offer some mismatches during the Division Series.
In the past, each team was able to set their pitching staff
exactly the way they wanted matchups to play out. All games
in the first series would start with team ace versus team ace
and so on down the line. That's still the case with the first
series but the recent addition of Wild Card games mean that
matchups in the following series aren't exactly as those
teams would like.
No matter who the Wild Card playoff teams start in their
games, their pitching rotation for the next series will be
out of whack. Eventually, there is potential for a large
mismatch if the Division Series go long enough.
If the Oakland A's make the playoffs as a Wild Card team, the
chances are good that they'll pitch John Lester in that game
making him less available for the AL Division Series if they
win. Likewise if the Kansas City Royals win the game they
won't have James Shields available to matchup against Jered
Weaver of the Los Angeles Angels in the first game of the AL
Division Series.
Mismatches will continue for the next couple of games but
should get back to normal for the World Series. I don't claim
to be the smartest gambler around and look for obvious
mismatches when I bet baseball. I'd rather bet a team that's
+150 to +175 than a team that's plus or minus 110. This is
why baseball betting is so attractive to me. I can win less
than I do in football or basketball but win more money.
I rarely find value with series bets, so I've kept my MLB
betting to a minimum during the playoffs. For a change, I
watch the games as a fan. We'll see how things develop with
the individual games but I'm happy sitting back and rooting
for the Washington Nationals to cash my World Series futures
bet from before the season.
[ad_2]

Source link